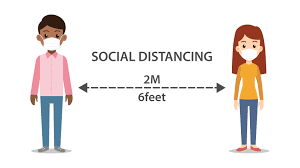 Image from bridgesrc.org
Eva Patel
From football games to in-person classes to family barbeques, the coronavirus pandemic has transformed our social lives.
At the end of March, when the United States had approximately 20,000 cases a day, 44% of Americans said their life had changed in a major way. In 2017, Vivek Murthy, the past U.S. Surgeon General, described loneliness as a major public health issue in the US. A January 2020 report from Cigna also reported that 60% of Americans over 18 felt lonely — the highest level of loneliness in American history. Coronavirus might make the  loneliness epidemic worse. Social distancing — which is proved to slow the spread of coronavirus and help flatten the curve — might also feed into America's loneliness epidemic. And although loneliness is defined more by a lack of meaningful social connection than simply face-to-face interactions, a 2018 Cigna study shows that those who have daily in-person interactions are 38% more likely to say their overall mental and physical health is good compared to those who never have in-person interactions. 
Older adults are at an increased risk for loneliness, and as the highest at-risk group for coronavirus, they are also more likely to follow stricter social distancing guidelines, contributing to isolation. Loneliness has some concrete health risks, such as premature death, suicide, depression, heart disease, and stroke. Although loneliness is not something strictly defined by DSM-5, it is an increasingly recognized aspect of health. Many mental health experts advocate for the term "physical distancing". Social distancing implies disconnecting from friends, family, and support networks at a time when these support networks are most needed.  
https://www.bbc.com/worklife/article/20200408-coronavirus-how-lockdown-helps-those-who-fear-the-phone
https://www.cdc.gov/aging/publications/features/lonely-older-adults.html
https://www.nbcnews.com/think/amp/ncna945446 
https://www.psychologytoday.com/us/blog/cutting-edge-leadership/202004/unfortunate-allies-the-coronavirus-and-loneliness
https://www.pewsocialtrends.org/2020/03/30/most-americans-say-coronavirus-outbreak-has-impacted-their-lives/