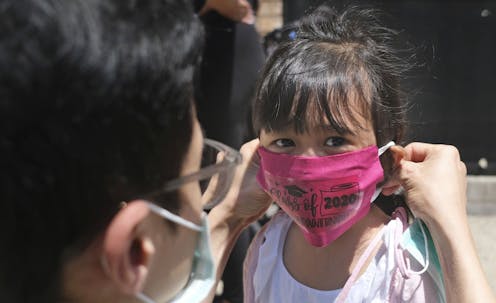 Image from theconversation.com
Oishika Das
All fifty states have imposed mandatory mask requirements in response to the pandemic. However, there has been a lot of variability among states in mask policy for children. In Texas, children under the age of ten are excused from mandatory mask use, while in Massachusetts only babies under the age of two are exempt. So at what age should children start wearing masks, and how beneficial is it for them anyway? 
According to the CDC, children over the age of two should wear a mask to help prevent the spread of COVID-19. However, babies younger than two years of age should refrain from wearing masks due to a potential suffocation risk. Instead, it is recommended that parents protect their babies by wearing masks themselves and ensuring safe social distancing when in public. 
John Hopkins reports that COVID-19 has less serious health outcomes in children than in adults, but recent studies show that kids are still capable of spreading the disease to more vulnerable populations. Therefore, it is important that parents ensure their children are wearing masks when around anyone they don't live with. 
Mask wearing might be new and potentially scary for some children, so parents can take the following steps to make their kids more comfortable with the concept: 
Draw a mask on their favorite cartoon characters, or put a mask on their stuffed animals.

Allow them to choose a colorful, patterned mask, or have them decorate their own to make wearing a mask fun.

Teach them how to properly put on and take off a mask, and allow them to practice until they feel confident.

Explain the importance of mask use before asking them to put on their mask.
Wearing masks is equally important in children as in adults and has become the new normal during the pandemic. With proper guidance and communication from parents, mask wearing for kids can become a lot less scary and maybe even fun! 
https://www.cdc.gov/quarantine/masks/mask-travel-guidance.html
https://www.healthychildren.org/English/health-issues/conditions/COVID-19/Pages/Cloth-Face-Coverings-for-Children-During-COVID-19.aspx
https://www.dukehealth.org/blog/why-children-should-wear-face-masks