The Fiscal Year 2021 budget recently released by the White House has captured the attention of Pacific watchers. The Trump administration's goal to "frustrate Chinese efforts to shape the Indo-Pacific in its image" as part of their larger desire to re-calibrate from the global war on terror to "focusing on great power competition" To this end, $1.5 billion is poised to be allocated to "ensuring that the region remains free, open, and independent of malign Chinese influence".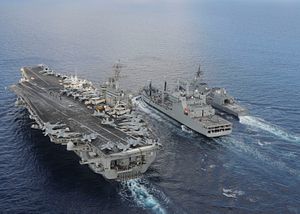 If the funding aims to strengthen democratization, security cooperation, economic governance in the region, it's worth a closer look at what the package includes. Presumably to counter state-linked Chinese banks and companies engaging as development in the region, the budget emphasizes "private sector-led economic growth". It plans to expand the International Development Finance Corporation (DFC) for to increase the participation of US private sector actors. The DFC was created via the BUILD Act  in 2018 to counter predatory Chinese lending with a transparent, high-quality alternative. Overall, the vision of DFC is to provide over $60 billion in private investment to fund infrastructure and offer "technical assistance" to states that are susceptible to debt-trap deals. This budget item would allow the DFC to make equity investments, broadening its ability to back private sector projects to advance U.S. strategic objectives in the region.
Aside from the headline-making $1.5 billion figure, there are two other items of note for the Pacific region. This budget would re-allocate operational funding from the U.S. Central Command, bloated from counterterrorism and counterinsurgency efforts in the Middle East, to the U.S. Pacific Command. In addition, the Budget adds $30 million to the underfunded State Department's Global Engagement Center to focus on countering Chinese disinformation efforts. Of course, Oceania won't be the only beneficiary of this shift. The current National Security Strategy emphasizes contesting Chinese claims in the South China Sea and engaging with a rising India. The Marines have just released a ten-year plan that echoes this national retooling away from counterinsurgency and counterterrorism to meet the threat of strategic competition– including an emphasis on islands as as potential battlegrounds.
Is this unsurprising, given that it just adds financial heft to the the most recent National Defense Strategy from 2018? Or is it meant to be a show of support to the region, or to China itself? Critics have questioned whether the share of US military spending on the region truly reflects the priorities that the Administration espouses. The FY2020 National Defense Authorization Act (NDAA) had requested a report from U.S. Indo-Pacific Command detailing what resources the combatant command needs to fulfill the National Defense Strategy in the region. Last month, Admiral Phil Davidson submitted this funding request to Congress to the tune of $20 billion dollars, including a $1.6 billion ring to defend Guam, funding for security cooperation with partner nations, and increased stockpiles of long-range weapons. Writing that "the steps we take must convince our adversaries they simply cannot achieve their objectives with force," Admiral Davidson offered five categories for additional funds: joint force lethality, force design and posture, strengthen allies and partners, exercises, experimentation and innovation, logistics.
This report may precursor the creation of a Pacific version of the European Deterrence Initiative, a specific Department of Defense fund for  deterring Russia from aggression in Europe. A Pacific Deterrence Initiative, or PDI, would be focused on dealing with China in the INDOPACOM region. In a March 24 letter to Davidson, chairman of the House Armed Services Committee Rep. Adam Smith (D- WA) wrote that he aims "to identify funding for an Indo-Pacific Reassurance Initiative in the NDAA for Fiscal Year 2021." Sen. Josh Hawley (R- MO) of the Senate Armed Services Committee, has echoed this idea, tweeting that "the time for a Pacific Deterrence Initiative has come."
Lacking in these justification for the additional funds to the Indo-Pacific is a mention of climate. As compared to my last series on French regional equities, US foreign policy under the Trump administration ignores environmental concerns. My understanding is that French officials have an understanding of climate and security as irrevocably interlinked (for this region at least, despite domestic predilections) whereas US officials are more likely to have a reserved view of climate as a "threat multiplier" at best and a side concern for scientists to worry about at worst. Policymakers ignore the risk of climate-related disasters to this region at our collective peril. A detailed summary of US assets in the region was compiled by my colleague Jonah Bhide and can be found here.
Indo-Pacific
It will be interesting to read Professor Rory Metcalf's forthcoming book on this topic, Contest for the Indo-Pacific: Why China Won't Map the Future. His argument, summarized in part here, is that contemporary Asian security can be understood through the Indo-Pacific lens, which is based on the wider maritime context. The "totemic significance" that the region has come to play for international actors is because the Pacific and Indian oceans connect the world's two most populous states: China and India. Their economies, along with many other global customers, on Indian Ocean shipping lanes to carry oil and other goods. The Trump administration's Asia strategy is summarized by its "Free and Open Indo-Pacific" refrain: US values underpin regional order and can not leave American interests behind, despite China's actions.
Considering the broader Indo-Pacific, which is home to about half of the global population and several of the fastest-growing economies, the states our policy research project is focusing on make up but a small part. However, these developments are even more important to follow given that foreign aid looms large in so many of these small island state's economies. Is it reductive to conclude Oceania is just another region caught in the rising geopolitical and technological tensions between China and the United States?
In any case, this budgetary proposal provided a vehicle to name-and-shame Beijing for its lack of respect for the sovereignty of Indo-Pacific nations in its expediency to make BRI infrastructure investments. This approach is not actually so far from President Obama's ill-fated pivot to Asia strategy that aimed to "keep Asia free from hegemony". The means, though, fall short. The Trump administration's approach attempts to beat China at its own game by broadening private-public investment tools. Given how differently the American system is structured, I'm doubtful that the United States will ever be able to offer as heft a check with as few conditions. Nor should we want to– the effects of pouring foreign capital into these small island nations are mixed at best. The great strengths of the United States, our values, our diplomatic prowess, our institutions, should inform American efforts to keep China at bay. To this end, following where this funding for democratization and security cooperation is allocated, and what impact it has, cannot be lost in the shuffle. Though Chinese efforts to carve out influence in the disaster risk and climate resiliency spaces have multiplied, there is no reason the United States should be mimicking defensively as opposed to making offensive plays.